Range Rover Evoque Dashboard Light Guide

The on-board computers found in today's vehicles are designed to offer safety and security. In the sporty Range Rover Evoque, any issues or concerns will be displayed in the dashboard with the on-board computer triggering a warning light in various situations.
Sometimes, these dashboard lights will let you know that a system or feature is currently activated. At other times, the lights may let you know of a potential issue that needs servicing in Marlboro, Freehold, and Englishtown. Ray Catena Land Rover Marlboro has compiled this Range Rover Evoque dashboard light guide to keep you up to date with what all those dashboard lights mean.
Schedule a service appointment online here!
Range Rover Evoque Red Warning Lights
If a dashboard symbol pops up and it is red, that requires immediate attention. An audible sound may also join the light. Here are some of the red lights you'll find in the Evoque, and what should be done when they turn on.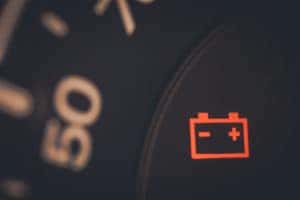 Battery Charge Warning: This light will illuminate when the key is turned in the ignition. If the light stays on, then that describes an issue with the battery charging system. A common cause is a broken alternator belt. Our service technicians will take a look.
Brake: If the dashboard says "LOW BRAKE FLUID" it's best to pull over as soon as possible. Shut the car off and inspect the brake fluid levels. If "BRAKE" pops up in all caps, then there may be a concern with the brake system.
Engine Temperature: This red light looks like a thermometer, and lets you know that the engine is running hot. After finding a safe place to pull over, turn the car off, and then seek assistance from a qualified Land Rover technician.
Yellow Warning Lights
The yellow warning lights are there to let you know there may be a potential issue with your vehicle. It's best to have it investigated as soon as possible.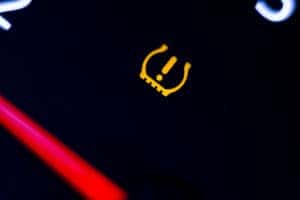 Airbag: The airbag symbol will illuminate when the car is turned on and should turn off after about five seconds. If the symbol remains on, there may be an issue with the airbag system.
Check Engine: This should turn on for a moment when the ignition is turned on. If it remains on while driving, it could be telling you of a potential transmission or engine issue. If it starts to flash, slow down and seek out our service center.
Tire Pressure Monitoring System: This light, which looks like an exclamation point surrounded by tire treads, is informing you that at least one tire is underinflated. Be sure to check tire pressure in all four tires. If the light persists, it's possible you hit a nail or debris and the tire is leaking. We'll do our best to repair the tire, but it's possible a new tire may need to be installed.
It's easy to do, without leaving the comfort of the chair you're sitting in right now. Schedule service here on our website, and the Ray Catena Land Rover Marlboro maintenance experts will be there to take care of the rest.
If an issue has popped up while driving in Marlboro, Freehold, and Englishtown, reach out to our service department today.